Teletalk Agami SIM Free Registration 2016. Taletalk sim company offer for the student who get GPA 5 in the examination 2016. For the Demand of the student Teletalk Authority take decision to distribution a free sim registration. In 2012,2013,2014 and 2015 year all SSC GPA-5 Holder are Eligible for Registration.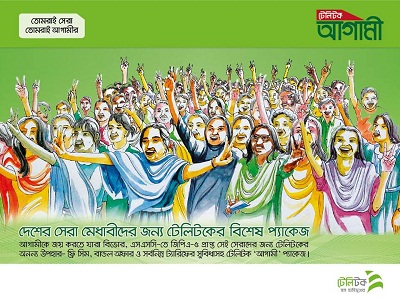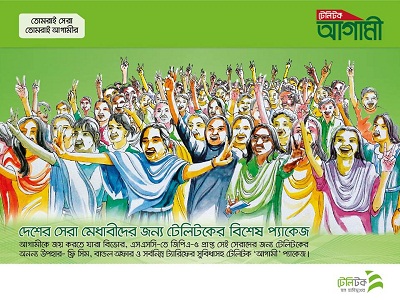 Condition for get a free Teletalk Agami sim 2016:
Only SSC GPA-5 holders are distributed Agami Teletalk sim.
Students who got GPA5 in SSC examination 2016.
Eligible ssc passing year is 2012,2013,2013,2014 and 2015.
Students who already recived Taletalk Agami SIM by free registration are not allowed.
Student can be collected Teletalk Agami SIM from their chosen Customer Care.
Free Registration Date :
Start Date : 10 june, 2016
End of the day: 10 july, 2016
How to Apply:
Student can registration by Taletalk sim with sms. Registration system are given Below:
Go to your mobile messege box/option and write GPA5 <Space> Your Exam Board <Space> Your Exam Roll <Space> SSC passing year <Space> Mobile No <Space> CC Code and Sent to 16222 .
N.B: CC code are available at customer Care list. You can find CC code by sending an sms through any Teletalk mobile no.
Example: GPA5 DIN 123456 2016 017XXXXXXXX 10 and sent 16222
How to get CC code:
For get your CC Code go to your mobile sms option and type: GPA5 <space> HELP <Space> CC <Space> Jamalpur and Sent 16222.
After sending this 2 sms application you will get a returning sms for Confirmation sim registration. They also notify a Schedule for collection your Teletalk agami sim via sms.
Documents are required to collect Teletalk agami SIM:
SIM collection sms which you receive after registration by teletalk sim.
Original SSC mark sheet/Admit Card or Certificate.
Photocopy of National ID card/Driving License or passport.
Two copies photos (National ID card/Driving License or passport).
User Registration Form. Availabe at Teletalk customer point.
After completing all of the prossess Teletalk will notify the sim colletion date throuh SMS, Official Website notice , press etc. You can also get Notify through our Facebook page or joining Facebook Group.