Polytechnic Admission Result 2016 for 1st shift merit list. Polytechnic 2nd shift admission result also published at www.techedu.gov.bd . Firts Shift polytechnic Admission result 2016-2017 published soon. All Technical Education Results, Admission Notice and more about Vocational institute is under (DTE) Directorate of Technical Education. More about polytechnic admission 1st shift result are below…
First shift Admission result 2016
You can easily find your technical admission result submitting your Tracking number. Click here to get your result or submit your Tracking Number Below the box. After filup your tracking number hit the submit button to get your result.
Polytechnic Online Admission process are complete now time to published technical admission result session 2016-2017. Generally Polytechnic institute dividate there admission result in 2 types.  There are 1st shift and 2nd shift. Student can apply two shift in same time. But the result are not share in the same day. After complete 1st shift admission Technical Education Board disclose 2nd shift/merit list. Though Online admission are exparied lets check some important information about Polytechnic institute Admission and some valuable date.
Polytechnic Institute List in Bangladesh:
There are also many polytechnic institute in Bangladesh. You can check it online.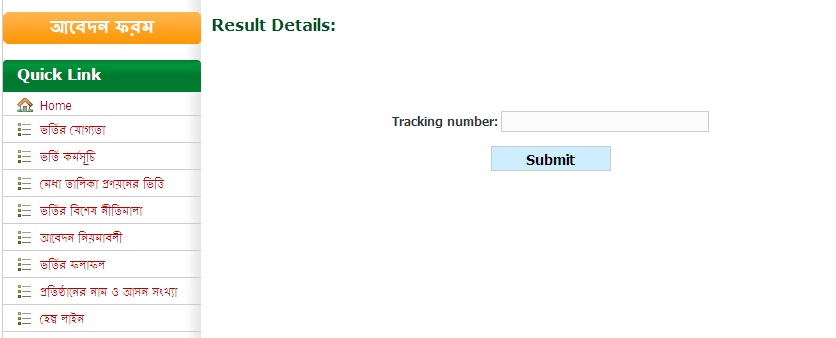 Some Important Date And Information About Polytechnic Admission 2016
Polytechnic Institute Admission and Important Date 2016
Online/SMS application date: 30 june to 20th June until 11.59 pm.
Polytechnic Admission Date: 26 June , 2016.
Admission for 1st Merit List Date: June 26, 2016 to july 25 , 2016.
Waiting List Admission Date: 02 july ,2016 to 25 july 2016.
Technical Class Start Date: 16 August ,2016.
After Apply Technical 1st Shift student are able to get there admission result providing there Track ID. Every Year techedu.gov.bd website published technical results. You can see your result at there official website or visiting our bdeducationinfo.com site.
Hope you can check your polytechnic admission result in our website. We updates all about technical, medical college, public university information in this website. So Stay with us via subscribe our facebook fan page or joining our facebook group.