National University Honours Admission result will be published soon . Candidate can apply Honours Online Admission from www.nu.edu.bd/admissions official website. Every Year NU Honours Admission Notice published by there authority and you can also get updates at bdeducationinfo.com . Now , you can check your Honours 2nd merit admission result from app1.nu.edu.bd official website or below this link.
NU Honours Admission Result 2017 published date available here. NU Admission Result published official website address i s app1.nu.edu.bd . Now Ready for Check Honours Admission result from online.
Honours Admission Result 2017-18
National University Honours 1st year admission notice published. The Details of Nu Honours Admission 2017 found at http://www.nu.edu.bd/admissions . Honours 1st Year session of 2017-2018 class will be start on 15 October 2017. Let`s learn about How to apply honours 1st year admission 2017 from nu official website.
National University honors 1st year admission process and have the opportunity to enroll in the 1st or second medhatalikaya icchukara their privileged if you do not like it if you can apply for a change of subject. This process is called migration or change the subject. Let's find out the details of the migration process.
National University Second Merit List Result 2017-2018:
1st or second merit list you get the chance to be able to migrate. Release the migration will not be awarded the opportunity slip.
Subject to migration remain vacant seat in the College, and on the basis of merit score of her ascending pachandakramera subject to change.  1. English II. Economics, 3. Bengali, 4. 5. History. Social Science.
Now you pachandakrame 25 numbers on any of these got the chance. If only he had the opportunity to pachandakramera the number of subjects in previous issues of migration can apply. But when you get the chance to pachandakramera No. 1 will not be able to apply for migration.
Changes in migration issues before the matter can be taken haoye canceled and will be changed to ensure the filling. In this case, they will not be allowed to return to the previous topic. However, if you do not change the subject in the past admitted to maigresasana will continue.
Migration of the system very easy. But you must have been admitted to the prescribed procedures will have to work a little earlier. Time to meet the admission forms online "Do you want to change your assigned subject based on your given preference list? YES or NO "This is the kind of options.
NO is commonly checked here. Migration should be checked in order to YES. Only if you apply this function to broadcast it. But of course you must medhatalikaya privileged to be admitted haoye. Watch the video below to learn about these steps.
post Source :  nunoticeboard.blogspot.com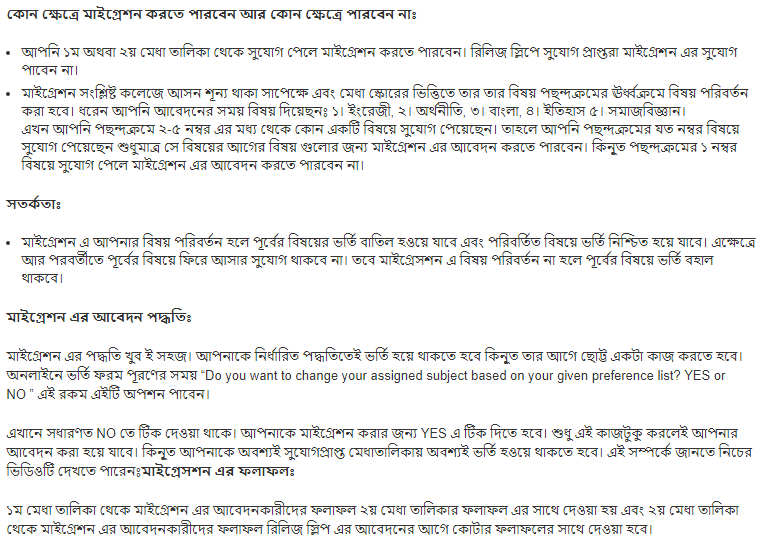 Honours Admission Educational Qualifications :
Students who passed SSC or similar examination in 2014 & 2015 & HSC or similar exam in 2016 & 2017 will apply in National University Honours 1st year Admission Notice 2017-18.
Students will have to get at least CGPA 2.00 (with 4th subject) in SSC or similar exam & HSC or similar exam for admit Honours admission.
5 Step To Apply NU Honours Admission 2017
Got to www.nu.edu.bd/admissions then follow below the instruction..
At First Step give your SSC & HSC Information and Click Next button.
Now you can see Your Information Based on HSC and SSC Information. If All information are Correct Click Next. See can Your Gender.
Then Select Your College (Where You Want To Admit) and Choice Subject ( Be Careful of Choice Subject) When You Finish it Click Next.
After that Select Quota Option if Eligible and Click Next.
At the Final Step Upload Your photo. [ Photo Size Should Be 120 x 150 Pixel and JPG Format. File Size Maximum 50 KB. Now Click Preview Application Then Check All Information. Now Submit Application. Print Application in (8.5″x11) A4 Paper.
After Complete Admission Form Fill Up at nu.edu.bd/admissions, You have To Submit Application Form to Desire College you select from online.
Honours Admission Result 2017
National University Honours Admission Result Merit list also published by app.nu.edu.bd . On the Honours 1st year admission result published date you will get the result from bdeducationinfo.com . NU Admission Result have To Collect by login With Application Roll number and PIN Number. You can also get Honours admission by mobile sms. Let`s know about how to get honours 1st year admission result by mobile SMS.
NU Admission Result by SMS
National University Honours Admission Result by SMS Instruction are Given Below this post. After Publish admission Result, You Can Get Result by Send SMS From Any Mobile Operator in Bangladesh. Just type below this sms format.
NU (Space) ATHN (Space) Admission Roll and Send 16222
Example: NU ATHN 53647 and Send 16222
Students Can Get Result Through online. Go to below Link and Login To Give Your Admission Roll and Pin Number.
Honours Admission Release Slip Result
There are lot`s of student apply Honours 1st year Admission in 2017 but many student won`t get chance for honours 1st year admission. National University have limited seat of nu Chance For 1st Merit List Result or 2nd Merit List Result. However, The Authority Will Declared Release Slip Application For Honours Admission Student. The Students Who Didn't Get Chance Merit list, They Can again Apply For Release Slip Application.
Who Can Apply For NU Honours Admission Release Slip
Students who Fill up Online Admission Form but did not get chance in merit list.
Candidates who canceled admission.
students who get chance in merit position but haven't admitted
For apply Honors admission Release Slip Form, Students have to login web site by give admission test roll and Pin Number. Then Students Will get Applicant name and Others details. They Will see Available College and Seat Number in College Option, Now Choice Your College and Fill Others information and submit application Form.
Honours Admission 2nd Merit Result will be published 1st week November 2017
I hope you will be admit honours 1st year following my information which I show above on my post. National University Honours Online Admission Circular , Admission Result, Release Slip result, admission merit list are updated by nu.edu.bd/admissions and you can also gets all information by bdeducationinfo.com .
Hope You found your National University Admission result from bdeducationinfo.com . For more information about app1.nu.edu.bd result & Notice Stay connected with us by Liking our Facebook Fan Page.Share This information about Honours Admission session of 2017-18 With your Friend and Family, They May Need This For Get Honours online admission Idea. You Can Share by click below Social Share Button. Thanks For stay With us.