HSC Board Challenge Result Rescrutiny/khata challenge Result 2017
HSC Re-Scrutiny Application Process 2017. HSC Board Challenge Result and SMS Process Described on my website. Every Year Lots of Student want to check their Exam Paper. Student who fail or get low score in their HSC Examination they are most welcome to Re-Scrutiny Which Also Known As HSC Result Khata Challenge.
How to get HSC Rescrutiny Result 2017
HSC Board challenge result 2017 for all board published by teletalk official website. HSC Rescrutiny Result 2017 also available at bdeducationinfo.com . Many people know it as a khata challenge result from Bangladesh. So You can check HSC rescrutiny Result BD from teletalk.com.bd . If you fail to get your result from others site connect with us via Facebook page then We will give your result fast. Let`s try to get your HSC Board Challenge Result BD 2017 from my website.
HSC Challenge Result Will be Publish 22 August 2017
HSC Re-Scrutiny Application Process 2017
HSC Khata Challenge System and it`s Process already started. Candidate can Apply Board Challenge before 30th July 2017. Many of Students get A+ or their Desire Result but some of HSC Students not get their desire result. So Many students will want overlook their HSC exam paper by examiner. khata challenge Result 2017 will be published on 22 August 2017.Let`s Follow below this Post for your Board Result in 2017.
Step 1 : Find out the subject code of your desired subject or Fail Subject that you may want to request for recheck answer sheet.
Step 2: Make Sure that your Teletalk SIM have reacharged 300 Taka. [ N:B for Every Subject you have to charged 150 taka]
Step 3 : Then You have to sms below this Format:
RSC <Space> 1st 3 Letter of board < Space> Roll Number <Space>Subject code(such as 101) and Send 16222
Example : RSC DIN 145663 101 and Send 16222
If anyone apply for more than one subject then put "," between subject code (such as 105,108)
After sending the First SMS Students will get shortly a pin number this indicates the cost of the HSC Re-scrutiny application 2017.
If you have enough balance in your account then reply another sms to 16222.
RSC <Space> Yes <Space> PIN <Space> Contact Number And sent to 16222
Example : RSC YES 445663 0173………….. and Send 16222
Then a SMS will be received by your teletalk mobile which indicate Applicant name and track number.
HSC Board Challenge Result 2017
HSC Board Challenge Result Will Publish on 17 August 2017. When HSC Re Check Result publish We published this news on our website and Facebook Page. Check From Below HSC Re-Scrutiny Result Will be published soon.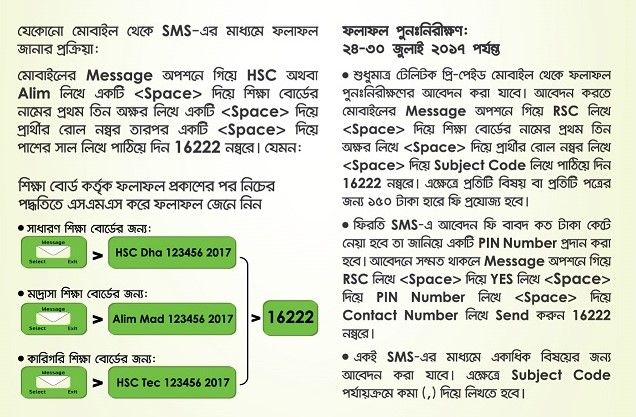 HSC Board Challenge Result All Board Result 2017
If you have any question about HSC Board Challenge Result & Re-Scrutiny Application Process 2017, ask us by Facebook message. Stay with Us to get daily update news from here.
Related Post :